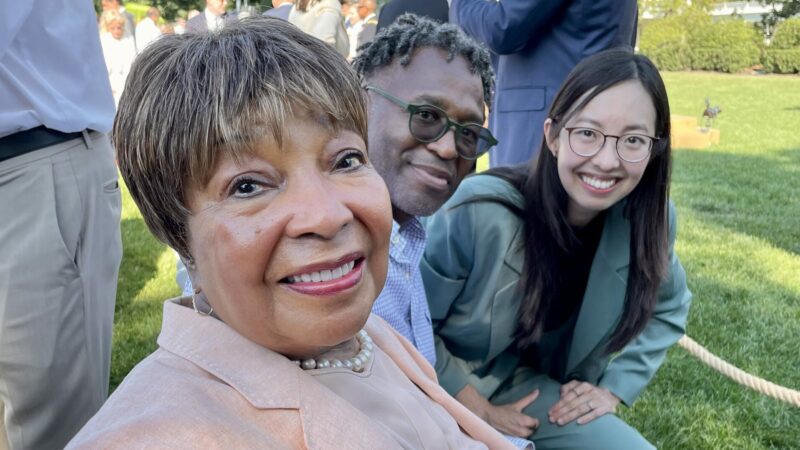 Headline |
White House Invitation Underscores a National Need for Diversity in STEM
On Tuesday, August 9, President Biden signed into law the bipartisan bill known as the CHIPS and Science Act (CSC ACT).  The bill aims to strengthen US competition with China by encouraging US companies to manufacture semiconductors and by revitalizing "America's scientific research and technological leadership". Under Title V: Broadening Participation in Science of the bill, the White House will also push to build a strong and diverse STEM workforce.
As part of this historic bill signing ceremony, Dr. Christine Yifeng Chen (Lawrence Livermore National Lab, Center for Diverse Leadership in Science) and Dr. Vernon Morris (Arizona State University), two co-authors of a preprint titled "Decades of Systemic Racial Disparities in Funding Rates at the National Science Foundation" were invited to attend. Four of the seven co-authors, including the lead author, are early career fellows or faculty of the Center for Diverse Leadership in Science at UCLA. The paper, which analyzed publicly available data, revealed racialized funding disparities at the National Science Foundation, building on similar results reported by other researchers at the National Institutes of Health and the Wellcome Trust in the United Kingdom. The study also found the following patterns:
Proposals by white principal investigators (PIs) have been funded above overall rates for at least two decades.

The relative funding rate for proposals by white PIs has been increasing with time.
Proposals by most BIPOC (Black, Indigenous, and people of color) PIs have been funded below overall rates.
The CSC Act will begin addressing these racialized funding disparities by supporting policy reforms, research, and data collection to identify and lower barriers facing women, minorities, and other groups underrepresented in science, technology, engineering, and mathematics (STEM) studies and research careers.
Subtitle C of the CSC Act ,The MSI (Minority Serving Institution) STEM Achievement Act will direct Federal science agencies and the Office of Science and Technology Policy (OSTP) to undertake activities to improve the quality of undergraduate STEM education and enhance the research capacity within our Nation's  Historically Black Colleges and Universities, Tribal Colleges and Universities, Hispanic Serving Institutions, and Minority Serving Institutions.