In an election year with multiple natural disasters caused or worsened by climate change — from the busiest tropical storm season to historic wildfires on multiple continents — KCET's environmental series Earth Focus is getting more political and global with help from UCLA.
The premier episode broadcasts Tuesday, Sept. 8 at 8 p.m. PT, to be followed by two more episodes on Sept. 9 and 13 and a special 90-minute documentary "The New West and the Politics of the Environment," which is set to air September 29. More details are available on the series webpage.
KCET partnered with UCLA's Laboratory for Environmental Narrative Strategies (LENS) two seasons ago to reboot the show, which first broadcast in 2007, using expertise from environmental storytellers, said Jon Christensen, show producer and founding faculty member of LENS.
"The big shift with Earth Focus was to make the show more about humanity and our relationship with the environment," Christensen said. Before the partnership, he said, the show was a more traditional environmental show about wildlife and nature. The show also partnered with the Thompson Reuters Foundation, which added resources to broaden geographical scope and distribution.
This season's episodes focus on topics such as illegal mining and its health effects in Peru, the transition from coal to renewable energy in South Africa, and youth climate activism — with a particular focus on the political and human dimensions of these issues.
UCLA students contributed research and content to support the show, working on internships funded by the university. Alexandria Herr, a Ph.D. student and environmental journalist, wrote a companion piece for the Peru mining episode on the toxic legacy of California's gold rush. Miners often used mercury to amalgamate gold, leaving behind pollution in streams and rivers.
"California's industrial history still haunts communities of the Sierra Nevada today in terms of its toxic legacy and environmental health," Herr said. "The people who benefit from that wealth leave, and the people who are still suffering from those environmental contaminations — those indigenous and rural communities in Northern California — are left with the problem and the price tag."
Without intervention, she said, the reality in California could be Peru's future.
Christensen served as executive producer for "The New West and the Politics of the Environment." The feature-length documentary investigates how former U.S. Senator Harry Reid brought together various groups, from Native American tribes to ranchers and citizens of a growing Las Vegas, around environmental concerns. Among his accomplishments are moving Nevada away from coal and fighting for protected lands, beginning with Great Basin National Park and teaming with Barack Obama's administration to designate a nearly million-acre national monument, the Basin and Range National Monument.
"I asked Harry Reid on several occasions whether there was any grand vision for what he accomplished, and he says 'nope.' He just did what he needed to be done, one thing at a time," Christensen said. "Looking back, it surely looks like there was one. This really adds up to a vision for a New West that is very different from the Old West."
The episode dovetails with broader national and global conversations about the future of environmental policy and the Green New Deal, an ambitious proposed for national legislation to take on climate change and economic inequality. Christensen calls the pragmatic, piecemeal approach taken by Reid a "lowercase green new deal," which stands a better chance of succeeding in purple states like Nevada.
"I think we need to recognize that the states are laboratories for democracy and different things will work in different states," Christensen said.
This new season of Earth Focus is the latest effort by LENS, which aims to incubate new modes of storytelling, communications and media on environmental conservation and equity.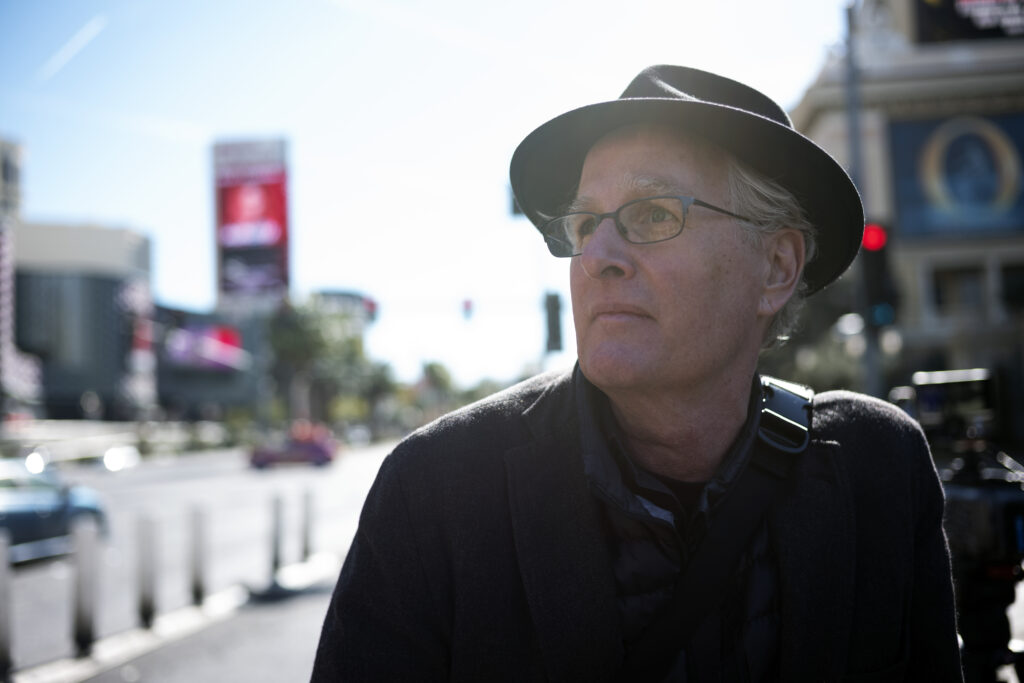 ---
Top Image: Still images from 'Earth Focus' documentaries, clockwise from top left: "The New West and the Politics of the Environment," courtesy of KCET and LENS at UCLA;  "The Youth Climate Movement Around the World," "The Price of Gold in Peru," and "Coal Mining in South Africa," courtesy of Thomson Reuters Foundation.