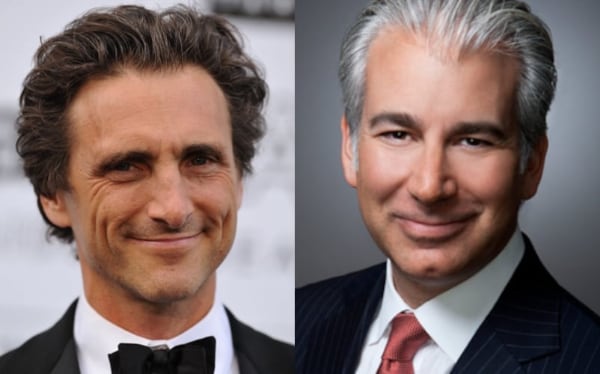 As the 2017-18 academic year winds to a close, UCLA Institute of the Environment and Sustainability welcomes two new board chairs with proven track records in business and entertainment — and a passion for environmental activism and philanthropy.
Lawrence Bender and Daniel Weiss were recently named co-chairs of the institute's board of advisors, which works with leadership and faculty to direct, support and develop programs for research, education and outreach.
Lawrence Bender is best-known for his nearly three-decade career as a film producer. His credits include Hacksaw Ridge (2016), Pulp Fiction (1994), Inglorious Basterds (2009) and the breakthrough environmental documentary An Inconvenient Truth, which raised awareness about climate change and won an Academy Award for Best Documentary Feature in 2006. In addition to environmental activism, Bender is a founding member of Global Zero, an organization of world leaders that seeks to completely eliminate nuclear weapons.
Daniel Weiss is co-founder and managing partner of Angeleno Group, a Los Angeles-based private equity firm that invests in pro-environmental businesses such as renewable energy, clean transportation and energy efficiency technology. The Los Angeles Business Journal recently ranked Angeleno Group as one of the top ten largest venture capital firms in Los Angeles. In addition to his environmental non-profit work, Weiss serves on a number of other local and national boards including the California Community Foundation and the U.S. Holocaust Memorial Museum in Washington, D.C.
The co-chairs take their new roles at a time of rapid growth for the Institute of the Environment and Sustainability. In the past year, the institute added six faculty members and launched three major initiatives: the Pritzker Emerging Environmental Genius Award, a Ph.D. in environment and sustainability, and the first- university-based center for diversity in environmental sciences. It also expanded a corporate partners program and began developing an educational program geared toward high school students.
Looking forward, Weiss and Bender plan to build on that momentum to address environmental concerns in the wake of a year of record global ocean temperatures and extreme weather — realities expected to become more common as the climate changes.
To meet those challenges, they plan to bring more stakeholders into the fold.
"Over the past decade, the global marketplace has seen remarkable gains in sustainability," Weiss said. "When environmental scientists and students work with businesses, the entire planet benefits."
After co-hosting the institute's annual gala, which raised $1.3 million while honoring Van Jones and Keeley Shaye and Pierce Brosnan, Bender stressed that much remains to be done to give everyone a seat at the table for the environment.
"In a city as diverse as Los Angeles, we've got a chance to truly make environmental science inclusive," Bender said. "Global warming and air pollution affect us all — we've got to make everyone part of the solution."
Bender and Weiss take the helm from former Tina Quinn, who served as chair for five years and remains on the board of advisors.
---
Read Lawrence Bender's recent op-ed on the need for inclusion in environmental science.