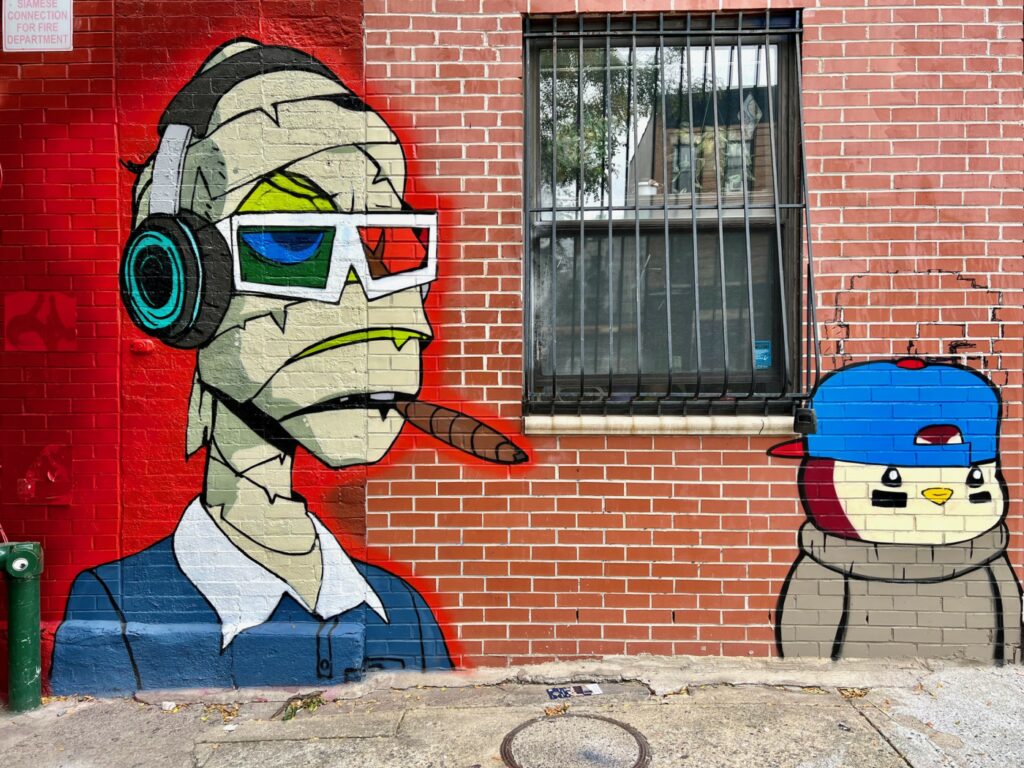 Story
UCLA students evaluate sustainability of NFTs
Non-fungible tokens — NFTs — have emerged as a popular way to sell digital properties such as artworks, videos and even Twitter posts. About $17.7 billion worth were traded in 2021, more than double the previous year.
Recently, they have also become known for having large carbon footprints. To confer and maintain ownership, NFTs rely on energy-intensive cryptographic transactions that produce an average of 465 pounds of carbon emissions per NFT over their lifetime — an amount equal to driving 513 miles in a gasoline-powered car.  
To guide UCLA in deciding whether to partner with NFT firms in the future, a student-led team worked with the university's licensing department as part of the Sustainability Action Research program, which gives students opportunities to design and implement sustainability projects on campus.   
"Our project is going to help UCLA determine what is sustainable and make the right choice to improve our carbon footprint," said Natalie Phan, a member of the team. 
The students conducted informational interviews with NFT providers and universities who have entered NFT deals and developed a set of guidelines to evaluate the sustainability of NFT companies, including whether they use renewable energy such as solar or wind, whether they purchase carbon credits to offset emissions, and what methods they use to verify transactions. 
NFTs consume a lot of energy because they rely on the blockchain — a public, digital record of transactions that is not controlled by a single entity — to verify purchases, said Jeff Van, one of the team's co-leaders.  
After a transaction is verified by a network of computers, it is grouped into a block of transactions and added to the blockchain. Because it is impossible to delete or alter earlier blocks, data stored on the blockchain is claimed to be irreversible and fraud-proof. 
Most transactions are conducted through Ethereum, a digital platform that uses "proof of work" — a process in which computer users known as miners compete to solve math puzzles via trial and error. The winner updates the blockchain with the unique data associated with the purchase of the NFT, including who owns it, and receives cryptocurrency as compensation.  
This competitive process leads mining firms to invest in increasing numbers of computers and supercomputers, said Van, a second-year student majoring in environmental science. 
"It's like an arms race between all the different miners," he said. 
A different method of verification known as "proof of stake" generates substantially fewer emissions — about 4.65 pounds per NFT — because it removes unnecessary computing. Instead of huge computer farms solving puzzles, a single miner is randomly selected to verify a transaction. 
With about 13 million NFTs being sold to date, the numbers add up to a concern for universities seeking to reduce emissions. 
"We are not interested in signing companies who are not willing to share our strict human rights and sustainability standards," said Liz Kennedy, director of ethical labor and sustainability for UCLA Trademarks & Licensing. 
UCLA and other schools in the Pac-12 athletic conference entered the first-ever partnership between universities and an NFT provider in 2021. The contract allows NFT provider Recur and artificial intelligence company Veritone to develop and sell NFTs for content such as student-athlete highlights.  
Since then, UCLA received similar proposals from other providers, but wanted more information about sustainability before moving forward, said Kennedy, who advises the student team.  
The student project could serve as a blueprint for other licensing departments and incentivize NFT companies to become more sustainable in the process, Van said. 
"NFTs aren't going to go away," Van said. "Our project is among the first steps that will push the entire industry towards a more sustainable path."