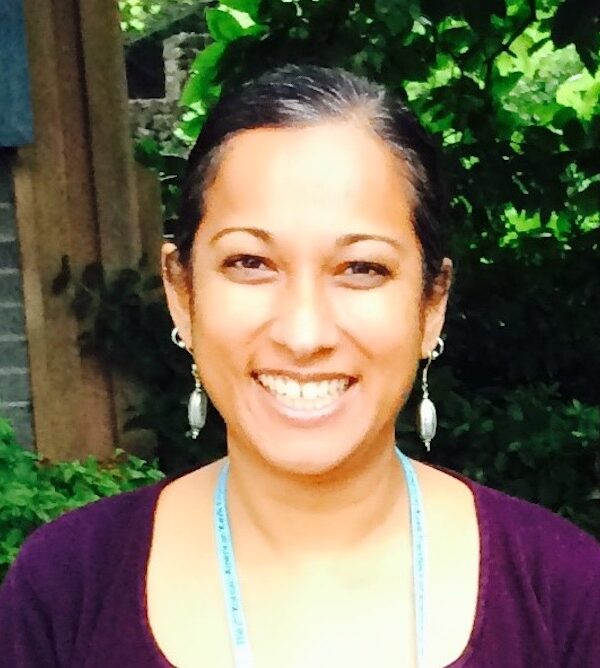 Aradhna Tripati grew up in Los Angeles and when she was in college, took a general education course on Environmental Geology that ignited her passion for environmental science and geoscience. She researches and teaches about climate change; the history and dynamics of changing Earth systems including climate, ice sheets, oceans, the water cycle, carbon dioxide levels; tool development; and clumped isotope geochemistry. She is Professor in the Institute of the Environment and Sustainability (IoES), the Department of Atmospheric and Oceanic Sciences, the Department of Earth, Planetary, and Space Sciences, the Institute for Geophysics and Planetary Physics (IGPP), and the California Nanosystems Institute (CNSI), as her work is highly interdisciplinary.
Aradhna also is the faculty director and founder of the Center for Diverse Leadership in Science. She has mentored, advised, co-advised, trained, or served on the committee for over 130 postdoctoral fellows and researchers, Ph.D. students, M.S. students, undergraduates, high school teachers, and high school students. Aradhna has over 3000 citations for her research, and has established world-renowned laboratories. She has 66 publications of which 12 are in Nature journals, Science, or Proceedings of the National Academy of Sciences, 181 conference abstracts, 13 invited talks and three keynote lectures at international conferences, and 50 invited talks at universities and research institutes. Her lifelong goals include advancing new geochemical tracers for the study of Earth system processes, studying the history and dynamics of climate change, and working to educate, recruit, and retain a diverse population into environmental science and geoscience, and more generally in higher education.
Aradhna has received numerous awards for her research, education, and outreach programs including a Presidential Early Career Award in Science and Engineering from President Obama and the White House Office for Science, Technology, and Policy, and the National Science Foundation's CAREER award, NSF's most prestigious award in support of early career faculty who exemplify the role of teacher-scholars through outstanding research, excellent education and the integration of education and research within the context of the mission of their organizations. She received the Bromery Award for Minorities from the Geological Society of America. Aradhna has been named a Hellman Fellow and a National Academy of Sciences Kavli Fellow, and recently received the E.O. Wilson Award for Outstanding Science on climate change. She also was awarded a Chair International D'Excellence in Stable Isotopes by IUEM (Institut Universitaire European De La Mer).
She received her B.S. in Geological Sciences from California State University, Los Angeles where she received the Aaron Waters Award for Outstanding Senior. Aradhna received her Ph.D. in Earth Sciences at UC Santa Cruz where she was a Gates Millennium Scholar, an Ocean Drilling Program Fellow, and a UC Regents' Fellow – and she received the Aaron Waters Award for Best Thesis Proposal. She was a research fellow at the University of Cambridge where she held the Thomas Nevile Fellowship in Natural Sciences, a Comer Abrupt Climate Change Fellowship, a National Environmental Research Council Fellowship, and a Marshall Sherfield Fellowship. Aradhna also was a visiting scientist at the California Institute of Technology for several years. She began as an assistant professor at UCLA in 2009 and received tenure in 2014.