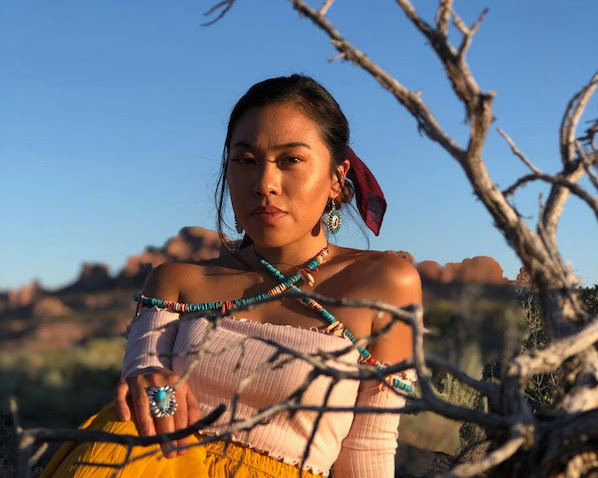 Caressa Nguyen
Co-Founder & President
Caressa Nguyen is tribal citizen of the Ione Band of Miwok Indians, as well as being Vietnamese and Filipino. She promotes the sovereignty of tribal nations, advocates for marginalized communities and fosters Asian American and Indigenous solidarity.
Nguyen focuses her efforts on amplifying Indigenous and marginalized voices through various avenues, including policy, design, social entrepreneurship and land stewardship. She has conducted climate change research in countries such as Bolivia, Morocco, Peru, United States, Vietnam and Nepal, with a particular emphasis on Indigenous rights. Her research sheds light on international case studies that highlight Indigenous resistance to natural resource extraction. Additionally, she has delved into the United Nations program on Reducing Emissions from Deforestation and Forest Degradation (REDD+) program.

She is the co-founder of Sacred Lands, Native Hands (SLNH), a nonprofit organization dedicated to restoring homelands to Indigenous communities and reviving traditional stewardship practices. Leading by example, SLNH has initiated a compelling campaign to reclaim Miwok lands in the Sierra Nevada Foothills of California. This effort directly confronts the political landscape of California, addressing unratified treaties that left Nguyen's tribe landless until 2020. SLNH actively supports other initiatives centered around land back and tribal co-management, including the expansion of the Berryessa Snow Mountain National Monument. SLNH also aims to strengthen tribal fishing rights in California.
Nguyen was awarded a US State Department grant to pilot a zero-waste shop model in the Cham Islands of Vietnam, a UNESCO Biosphere Reserve. Recognizing the importance of collaboration, she worked closely with the local Marine Protected Area staff to develop this experimental initiative. Nguyen also works to amplify community-led solutions and empower local women with entrepreneurial skills. Through the establishment of the zero-waste shop, the initiative seeks to reduce the environmental impact and foster a circular economy within the community.
Nguyen is committed to environmental justice, outdoor equity, the protection of Indigenous rights, the strengthening of tribal sovereignty and the fostering of Indigenous solidarity. Her multifaceted background and diverse range of accomplishments position her as a leader in these pursuits. Through her work, she blends research, grassroots initiatives and international collaborations to drive positive change, forge meaningful connections, and advocate for a sustainable and inclusive future.