The challenge of moving towards sustainability in Los Angeles County is daunting: it is the most populous county in the nation and consists of 88 individual cities. After nearly two years of gathering and analyzing data, the Institute of the Environment and Sustainability at UCLA has developed an Environmental Report Card for the County of Los Angeles, the first of its kind in the nation for a major metropolitan area.
(Read the 2017 Energy and Air Quality Report Card from Sustainable LA Grand Challenges.)
The aim of this report card is three-fold:
to provide a broad picture of current conditions,
to establish a baseline against which to assess the region's progress towards environmental sustainability,
and as a thought provoking tool to catalyze policy discussion and change.
In collaboration with the Goldhirsh Foundation and the LA2050 initiative, our hope is to start a conversation within the community about what our overall goals should be for LA County's environment, how we can better measure our progress, and what we can do to make substantial strides toward reaching these goals.
In the press
Download the Full Report
Download the Executive Summary
Download the Section on Water
Download the Section on Air
Download the Section on Ecosystem Health
Download the Section on Waste
Download the Section on Energy and Greenhouse Gases
Download the Section on Environmental Quality of Life
Download Extra Infographics produced for the Report Card
"Despite a strong recent history of environmental improvements, the county has a long way to go before joining the honor roll. There's tremendous room for improvement in all six environmental areas."
— Mark Gold, acting director of IoES and the project leader on the report card

"UCLA's report card fills a gap in what we know about the county. It gives the public and policymakers evidence of where improvement is needed, as well as a framework to talk about it. Our hope is that it leads to broader decision-making and policies to improve the county as a whole, not just one community at a time."
— Tara Roth, president of the Goldhirsh Foundation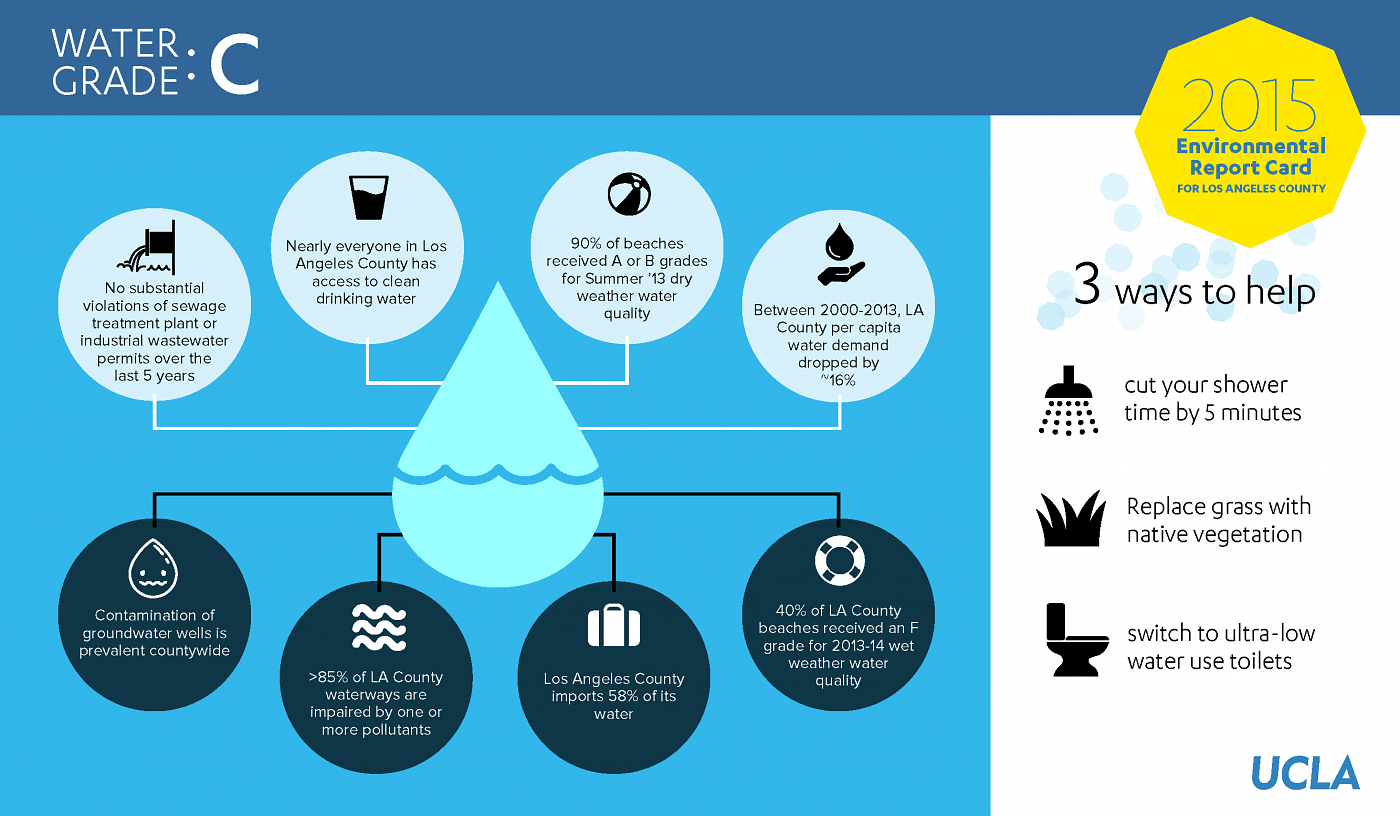 "On the positive side, when you turn on the faucet, the water's safe to drink, and most of our beaches are safe for swimming during the summer," Mark Gold said. "But nearly all of our streams and rivers are impaired by at least one pollutant. Our groundwater is extensively contaminated. And our substantial progress on water conservation still isn't enough in this drought."
---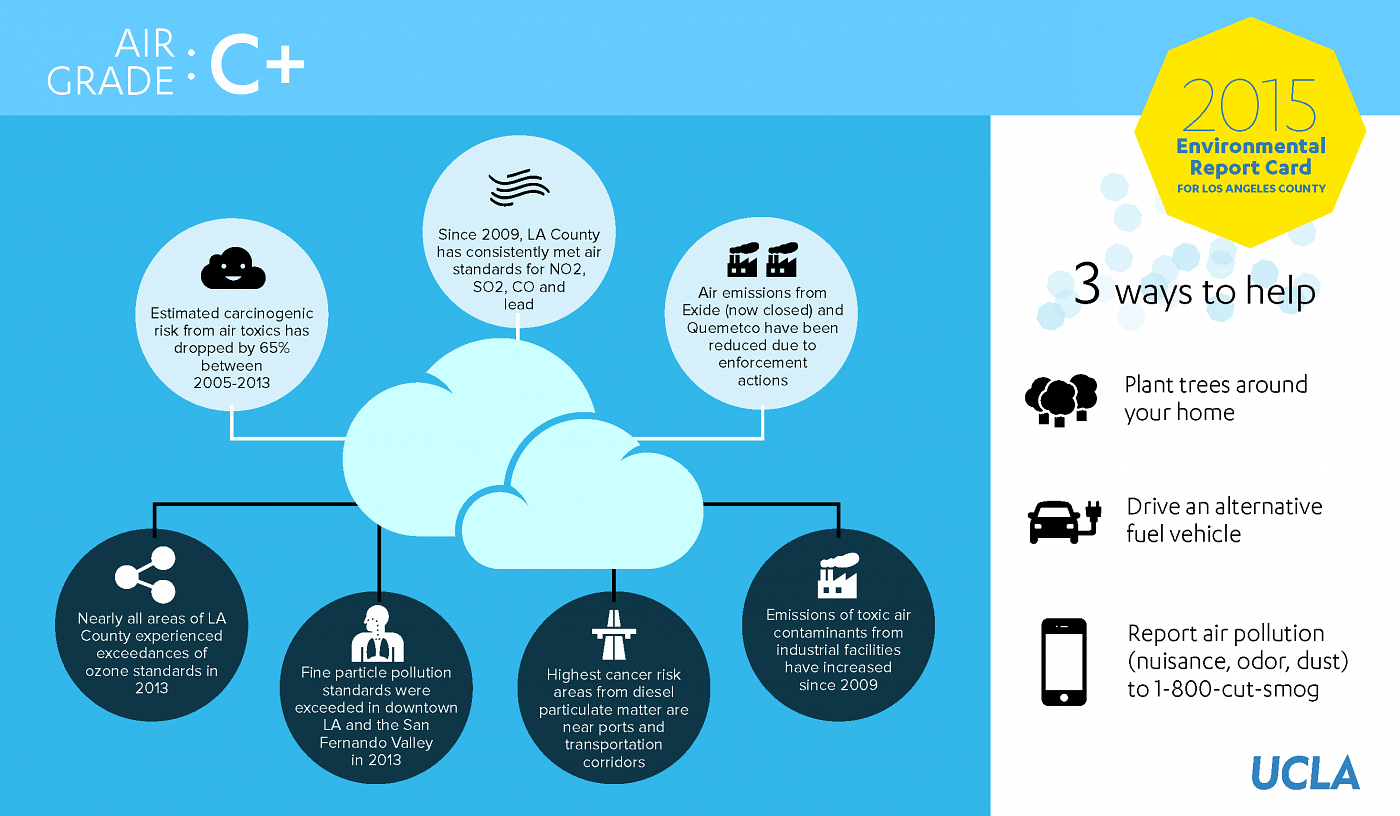 "We no longer have full days when children must stay indoors to play," Mark Gold said. "But lots of areas in the L.A. region have populations exposed to unacceptably high levels of cancer risk due to the air quality, especially in low-income areas, so we have significant environmental equity issues."
---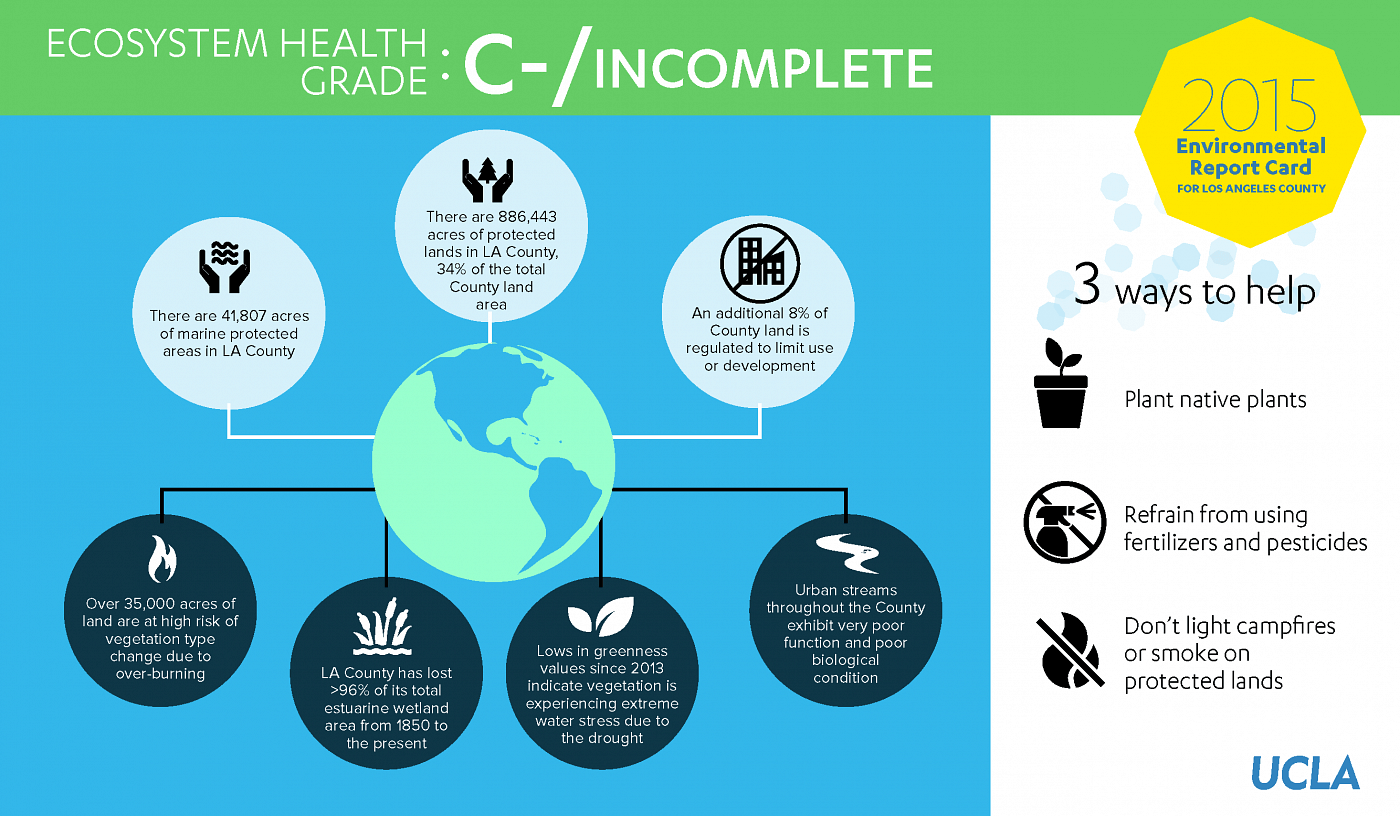 "There are so few regional targets or countywide monitoring efforts for ecosystem health that it was the most difficult to assess of all six categories," Felicia Federico said. "We need regional planning efforts to address these gaps."
Download the Section on Ecosystem Health
---
"Despite the fact that all cities in region comply with state solid waste management laws, we don't have the data to determine how much waste is recycled or diverted from disposal in landfills," Mark Gold said.
---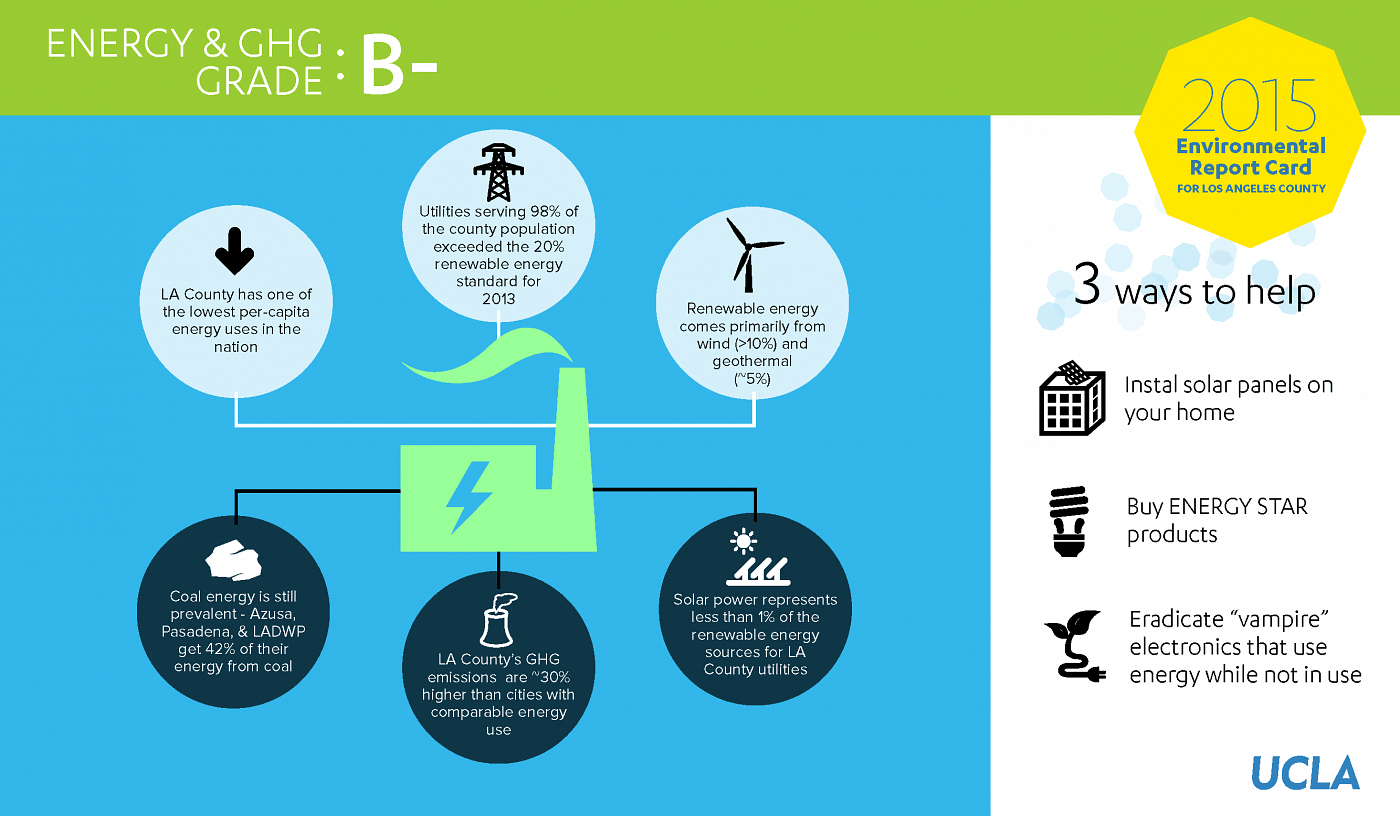 "By making our buildings more energy-efficient, making greener transportation choices and getting off of coal as an energy source, the region could become a national leader on both energy efficiency and greenhouse gas emission reductions," Stephanie Pincetl said.
Download the Section on Energy and Greenhouse Gases
---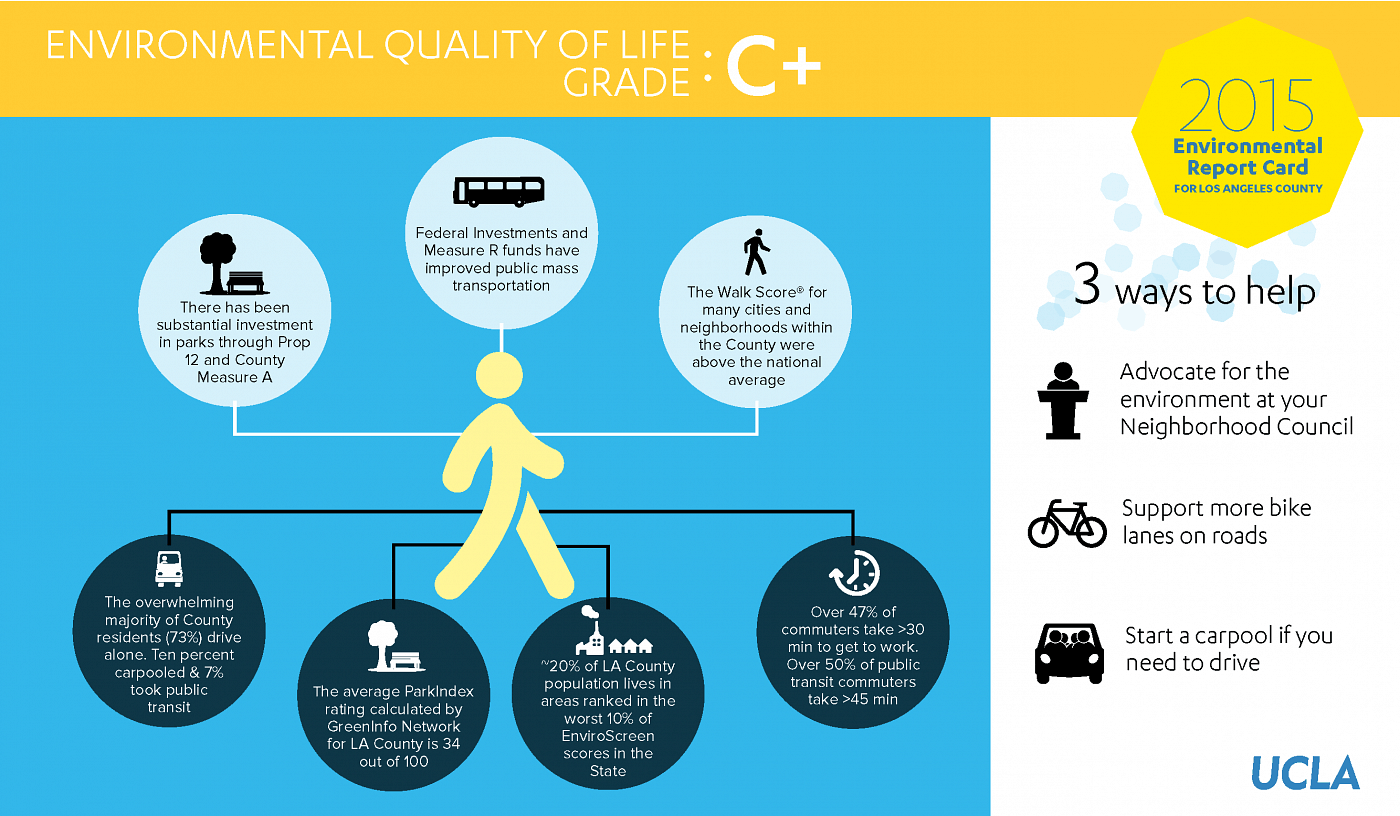 "Part of what this report confirmed is that if there's no federal law requiring baselines and improvement, we aren't determining baselines or setting targets for improvement," Stephanie Pincetl said. "The question is, what kind of an environment do we want? We can have an eroded environment, paved over like the Orange County model, where a great deal of the native habitat has been replaced, or we can develop urban infrastructure that allows humans to live alongside the native environment over a long period of time."
Download the Section on Environmental Quality of Life