In 2016, the California Energy Commission (CEC) awarded an Electric Program Investment Charge (EPIC) grant to UCLA to accelerate the deployment of Advanced Energy Communities (AECs). In partnership with the County of Los Angeles, the Southern California Regional Energy Network (SoCalREN), The Energy Coalition, Day One and LACI, the UCLA team has developed an innovative and replicable AEC design around existing buildings in disadvantaged communities​.
The goal of the AEC is to provide a community's energy needs with more efficient, reliable, resilient cost-effective and clean energy that is produced locally.​ The AEC promotes health, social equity, environmental justice and a more livable community overall, and provides direct financial benefits to participating residents, building owners and the community.
The UCLA team's AEC design addresses structural and programmatic barriers to clean energy technology adoption in disadvantaged communities, including: high levels of renters, limited capital, lack of wide-scale meter-level data, insufficient community outreach, inadequate business and financing strategies.
The AEC design provides locally generated GHG-free electricity from community solar and storage ​to offset electricity consumption of participants who "opt in" to the AEC through an enrollment system. Participants also benefit from various in-home upgrades (energy efficiency retrofits, demand response and energy management tools) at no upfront cost.
The Project Team created a pilot design for the LA County unincorporated areas of Avocado Heights and Bassett encompassing approximately 28,000 residents. The community solar system is ~5.9 MW, designed to serve approximately 410 residences, 19 multifamily properties and 7 schools.
A comprehensive community engagement effort provided education on energy issues, outreach about the project plan, and a series of surveys and focus group meetings, to provide feedback to the project design and to lay the groundwork for project implementation.
AEC Project Deliverables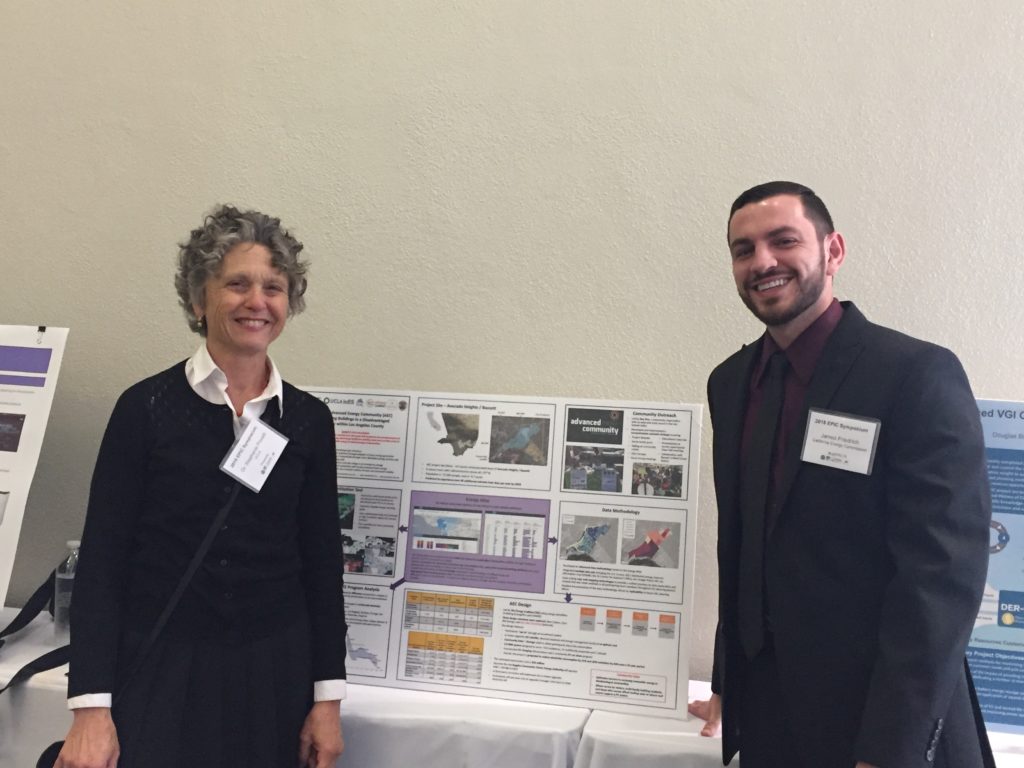 Dr. Stephanie Pincetl with AEC agreement manager James Friedrich, at the CEC's 2018 EPIC Symposium. Sacramento, CA, Feb 7, 2018.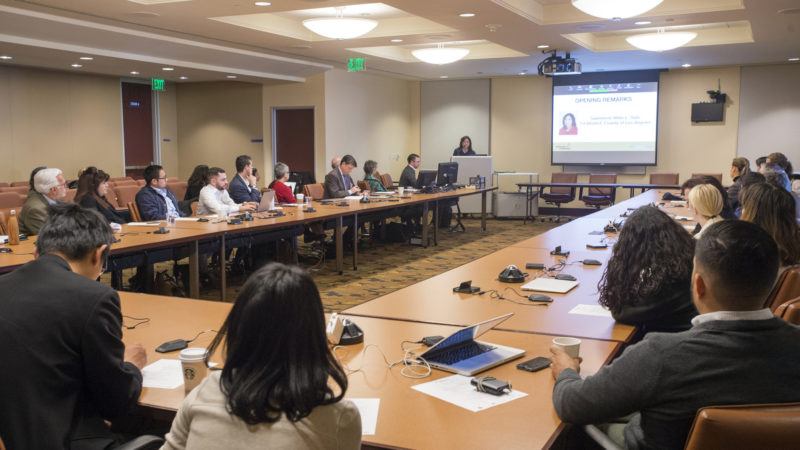 Los Angeles County Supervisor, Hilda Solis, speaking at AEC Final Event meeting.
Craig Perkins, President & Executive Director of The Energy Coalition, moderates the panel discussion, with (l to r): Stephanie Pincetl, project PI and Founding Director, California Center for Sustainable Communities at UCLA; Gary Gero, Chief Sustainability Officer, County of Los Angeles; Commissioner Martha Guzman-Aceves, California Public Utilities Commission; Erik Stokes, Manager, Energy Deployment & Market Facilitation Office, California Energy Commission.
Related Publications
Dr. Felicia Federico gives AEC project presentation to LA County Supervisor, Hilda Solis', district.
Presentation | 2017
download pdf
permalink