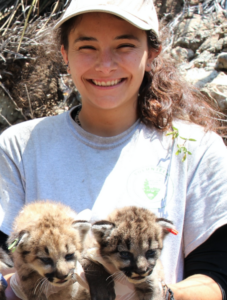 Awardee: Chloe Nouzille
Bio: Raised near the Santa Monica Mountains, Chloe Nouzille developed an interest in the local wildlife ecology. After earning a B.S. at UCI, she interned for the National Park Service as a large carnivore research assistant. Chloe is currently an M.S. student at UCLA, co-advised by Dr. Dan Blumstein and Dr. Seth Riley. In conjunction with NPS, her research explores wildlife post- fire recovery and recolonization in the Simi Hills and Santa Monica Mountains National Recreation Area. She is pursuing a research-based career studying social learning behavior to increase reintroduction success and conserve endangered species.
Project Description: This M.S thesis project aims to better inform local land management by increasing the understanding of post-fire recovery of wildlife living in fragmented habitats. 60 remote camera traps are rotated monthly through 180 sites in the Santa Monica Mountains and Simi Hills to understand medium to large mammal occupancy in the burned and unburned areas of the Woolsey Fire. Target species include rabbits, skunks, opossums, raccoons, gray foxes, bobcats, coyotes, mountain lions, and deer. Occupancy modeling will explore the relationship between species detected and recolonization over time in relation to the burn perimeter, surrounding urban areas, and habitat.