Daniel Swain, PhD
Climate Scientist
Institute of the Environment and Sustainability
LaKretz Hall, Suite 300
619 Charles E Young Dr. E
Los Angeles, CA 90095

Daniel Swain is a climate scientist at UCLA.
Research Focus
As a climate scientist, I study the dynamics and impacts of the Earth's changing climate system. I'm especially interested in how climate change is affecting the character and causes of regional climate extremes—including the atmospheric processes responsible for droughts, floods, and wildfires. My research embraces "climate complexity" by accounting for the nuanced spatial and temporal characteristics of our planet's response to increasing greenhouse gas concentrations.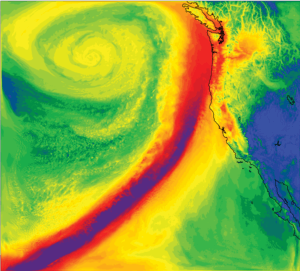 My recent work seeks to understand the changing spatiotemporal character of precipitation, including the rising risk of droughts and "megafloods" in a warming climate.  In addition, my colleagues and I have recently embarked on multiple research projects focused on understanding the climate-related factors driving the recent surge in wildfire severity in California and across the broader American West. A collective aim of both these research tracks is to develop empirically-supported approaches to natural hazard mitigation that benefit both society and the environment in an era of increasing climate whiplash. 
I currently hold joint appointments as a climate scientist within UCLA's Institute of the Environment and Sustainability, a research fellow in the Capacity Center for Climate and Weather Extremes at the National Center for Atmospheric Research, and as the California Climate Fellow at The Nature Conservancy. 
Science Communication and Outreach
I author the Weather West blog, which provides real-time perspectives on California weather and climate. I also engage extensively with journalists and other partners to facilitate broadly accessible, scientifically-informed media coverage surrounding climate change. In addition to serving as a climate and weather science liaison to print, radio, television, and web media outlets, I also review existing news articles for scientific accuracy as part of the Climate Feedback team. You can find me on Twitter @Weather_West.
CV, Publications, and More
My full, up-to-date curriculum vitae is available here.
My recent publications may be found below, as well as on Google Scholar, ResearchGate, and ORCID.