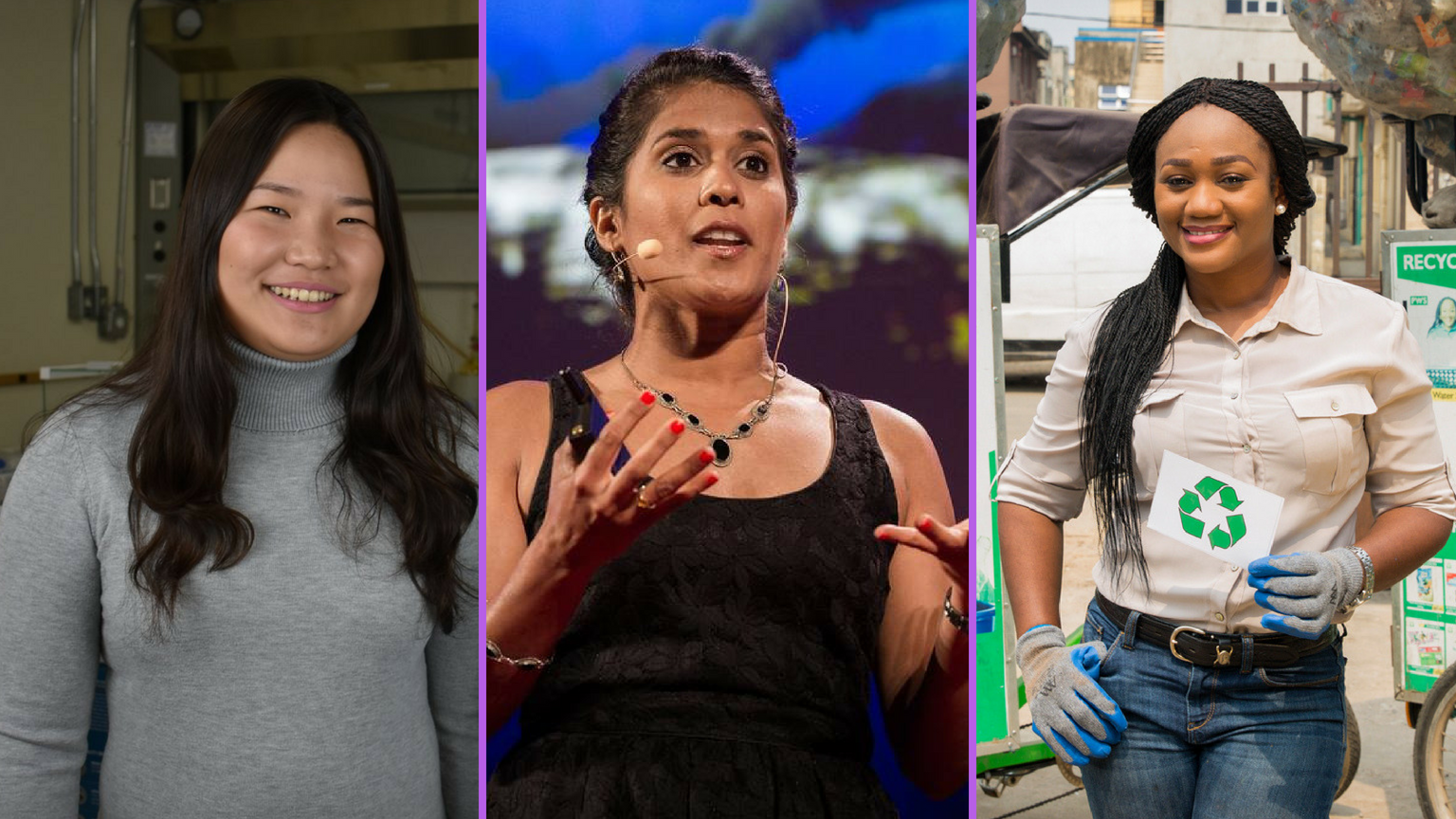 Story
2018 Pritzker Finalists: Miranda Wang, Asha de Vos, Chioma Ukonu
And then there were three.
UCLA Institute of the Environment and Sustainability is proud to announce the 2018 Pritzker Emerging Environmental Genius Award finalists, as selected by a faculty committee.
Chioma Ukonu, Asha de Vos and Miranda Wang were chosen from a pool of 20 candidates to move on to the next round of judging.
Ukonu pioneered a recycling program in Nigeria to help the country deal with its solid waste problem. Through RecyclePoints, she operates a growing network of facilities that has created a community around sustainability. The organization offers money, household items and other resources as rewards for recycling. To improve economic sustainability, it also sets up job training and bank accounts for members.
"Solutions that get people to clearly understand the value and benefits they derive from a clean and healthy environment creates not only economically enabled individuals, but also protectors of nature," Ukonu said.
Asha De Vos gained international attention for her scientific research on a unique group of blue whales off the coast of Sri Lanka. Now, she and her organization, Oceanswell, are building their own unique community — bringing together marine biologists and activists from underrepresented countries around the world.
"Technology can only get us so far," de Vos said. "We need to build the human capacity that can use that technology to drive change for our oceans. If we truly want to save our oceans, every coastline needs a hero — someone local, someone who is invested and someone who is in it for the long term."
Miranda Wang invented a new way to tackle the global problem of plastics pollution. Her method breaks plastics down into precursors — which can then be reused for things like electronics and car parts — cheaply and sustainably. Her organization, BioCellection, is getting ready to scale up massively, by 200 times.
The finalists were nominated by individuals who already made their mark in the environmental arena. Ukonu was nominated by Jaime Carlson, executive vice president of operations at Cypress Creek Renewables, a leading integrated U.S. solar platform. De Vos was selected by Ami Vitale, a photographer, writer and filmmaker for National Geographic. And Wang received her nomination from Steve Westly, founder and CEO of The Westly Group, a sustainability venture firm.
"It's hugely encouraging to be recognized as a Prtizker Genius finalist and to receive support during our pilot," Miranda Wang said. "We want to thank Steve for giving us the opportunity to share our vision and progress in the spotlight."
Next, the 2018 winner will be selected by four judges — author and news commentator Van Jones, philanthropists Wendy Schmidt and Nicolas Berggruen, and Kathryn Sullivan, former head of the National Oceanic and Atmospheric Administration and the first American woman to walk in space.
That winner, announced at a November 14 ceremony, will take home $100,000 as this year's Pritzker Genius.