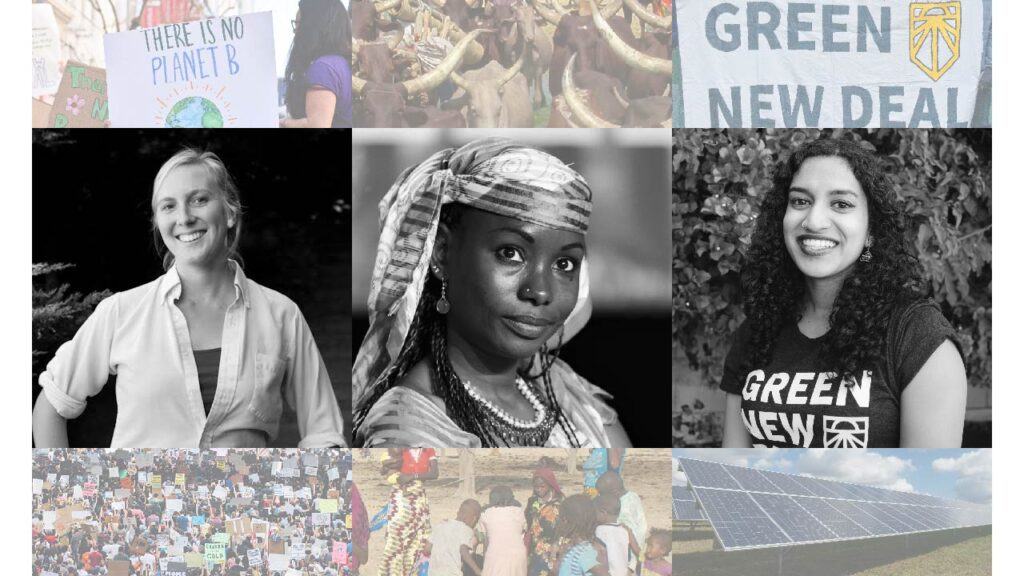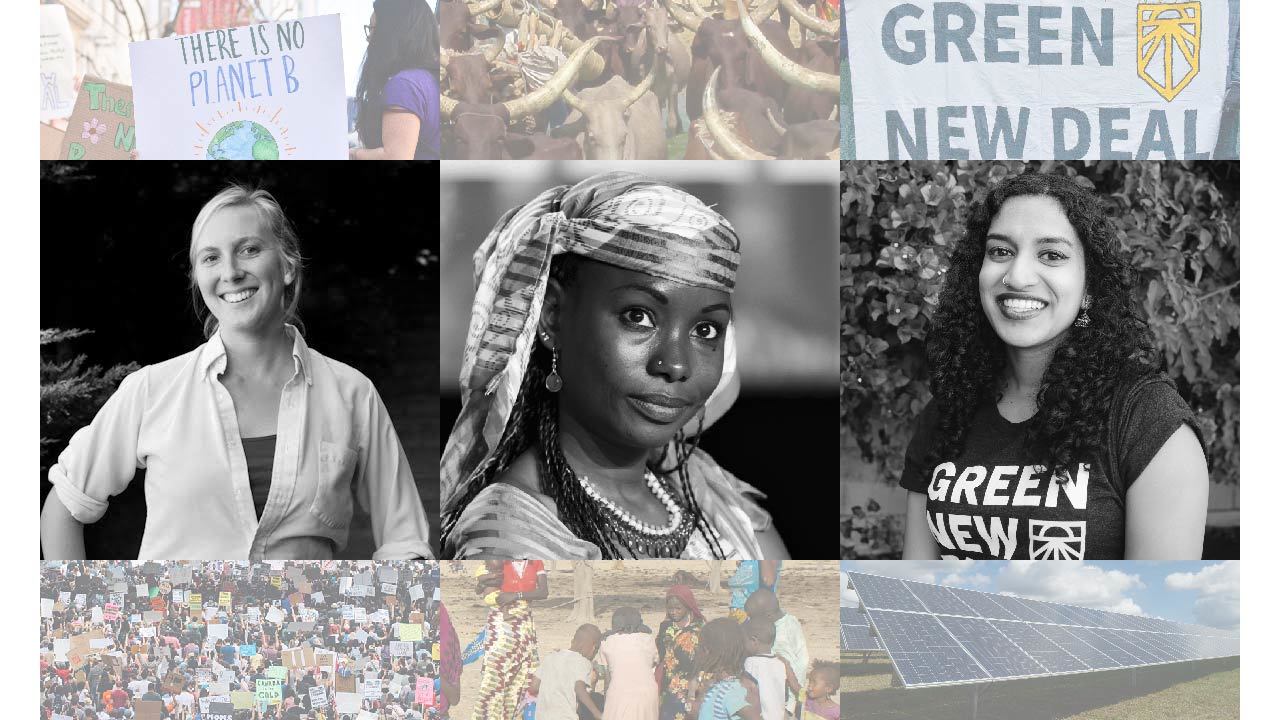 Story
2019 Pritzker finalists: May Boeve, Hindou Oumarou Ibrahim, Varshini Prakash
During a year of accelerating environmental problems, climate activists are having a moment in the sun.
UCLA Institute of the Environment and Sustainability is proud to announce three finalists for the 2019 Pritzker Emerging Environmental Genius Award, as chosen by a committee of 12 faculty members. All three are activists and, for the second straight year, all three are women.
May Boeve, Hindou Oumarou Ibrahim and Varshini Prakash were selected from a pool of 20 initial candidates to move on to the next round of judging.
Boeve is executive director of 350.org, a nonprofit organization she co-founded as an undergraduate at Middlebury College. Witnessing the limitations of working solely within political frameworks, 350.org uses large-scale activism to address climate change. Boeve was a driving force behind radical changes in renewable energy policy, including California's pledge to go 100% renewable by 2050. On September 20, 350.org plans a global climate strike in advance of a major United Nations summit in New York.
"We're facing stark warnings from scientists about the urgency of the problem, and it's waking up a lot more people," Boeve said. "As a result, we're seeing a huge outpouring of activism on the streets."
Hindou Oumarou Ibrahim advocates for greater inclusion of indigenous groups — and their knowledge — in the global climate movement. A member of the Mbororo semi-nomadic community, she leads the Association for Indigenous Women and Peoples of Chad. Lake Chad, a water source for 40 million people, has lost 90% of its surface area in just 40 years. As conflict increases among groups competing for this essential resource, Ibrahim began the first major dialogue among the area's numerous cultures and communities. Together, they are creating a 3D map of the environmentally fragile region to inform conservation and resource management while promoting security.
"When we talk about climate impact in other places, people get solutions coming from outside," Ibrahim said. "This place is landlocked. The only solution we have is the one we are building."
Varshini Prakash is co-founder and leader of the Sunrise Movement, which emerged in 2017 with a vision to transform politics and society to meet the challenges of climate change. The movement popularized the Green New Deal, an extensive policy platform that pairs environment and economy, calling for the decarbonization of major industrial sectors and creating massive work forces to build climate-friendly infrastructure. Though deemed too radical by some, the Green New Deal now boasts more than 100 congressional co-sponsors and is supported by 2020 presidential contenders, including Kamala Harris, Bernie Sanders and Elizabeth Warren.
"The only radical thing at this point in history would be to do nothing to stop the climate crisis," Prakash said. "Scientists are telling us that the levels of action we need to take right now in the next decade will require unprecedented transformations of virtually every sector of society."
The Pritzker Emerging Environmental Genius Award, which carries a $100,000 cash prize, is the first major environmental award to recognize individuals 40 and younger who have shown exceptional promise as champions for the environment.
The finalists were nominated by individuals who already made their mark in the environmental arena. Boeve was selected by Mary Ruckelshaus, director of the Natural Capital Project and a consulting professor at Stanford University. Ibrahim was chosen by Ami Vitale, a photographer, writer and filmmaker for National Geographic. And Prakash received her nomination from David Biello, an award-winning journalist and the science curator for TED.
Next, a winner will be selected by a panel of judges that includes sustainability and marketing expert Geof Rochester, philanthropists Wendy Schmidt and Nicolas Berggruen, and Kathryn Sullivan, former head of the National Oceanic and Atmospheric Administration and the first American woman to walk in space.
That winner will be announced during a November 7 ceremony at UCLA.
---
Top imange: From left, May Boeve, Hindou Oumarou Ibrahim, Varshini Prakash. | Graphic by Nicki Aviel.