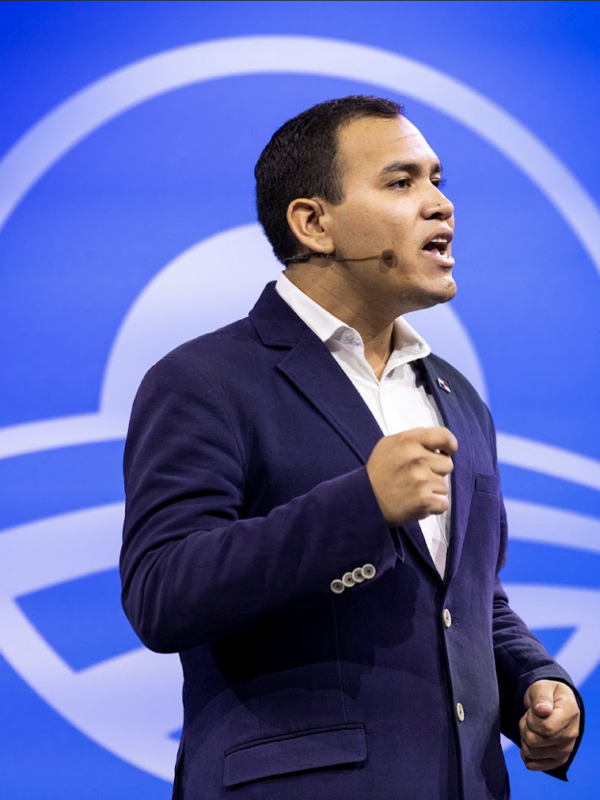 Juan Carlos Monterrey Gómez
Executive Director

Juan Carlos Monterrey Gómez is executive director of Geoversity: Nature's University. Geoversity's main campus is the Mamoní Valley Preserve, a 12,800-acre rainforest corridor of life, which have successfully prevented the fragmentation of the largest remaining stretch of contiguous rainforest in the Tumbes-Chocó-Magdalena eco-region — one of the world's top 25 biodiversity hotspots. Previously, Monterrey served as director of Geoversity's School for Biocultural Leadership, vice-chair for implementation of the UN Climate Convention, as well as chair and deputy chair of negotiating blocs such as the Independent Alliance of Latin America and the Caribbean (8 countries) and the Coalition for Rainforest Nations (50+).
At 28, he became Panama's lead climate negotiator and at COP26 led the youngest delegation to represent a country at UN Climate Negotiations. In 2018, President Obama named Monterrey an inaugural Obama Foundation Scholar. His work has been covered by the Washington Post, TIME, Forbes, Reuters and Deutsche Welle. Monterrey's passion is propelled by his upbringing in El Pajaro de Pesé, a rural community in Panama's Dry Corridor impacted by the climate crisis. TVN, Panama's leading newsgroup, named him a 2023 Héroes por Panamá. President Cortizo of Panama commissioned Monterrey to perform a reading of the Act of Independence to commemorate the Bicentennial of the Republic in 2021; and the Aspen Institute selected him as an Ideas Festival Fellow in 2022.

Juan Carlos co-authored decrees to establish Panama's national carbon market and consults for the World Bank on carbon pricing and climate lending operations in Panama. He previously worked at UN Environment and the Ministry of the Environment and co-founded Fund 17, a microfinance NGO in New Orleans. He holds degrees from UChicago, Tulane and Northwest Missouri State University. Monterrey attended José Daniel Crespo High School and the Missouri Academy of Science Mathematics and Computing.