White Mountain Research Center
NEWSROOM
UCLA aflutter over the butterfly effect
Jeff Holmquist, a community ecologist at the UCLA White Mountain Research Center and the UCLA Institute of the Environment and Sustainability, spoke with UCLA Newsroom about the butterfly migration across LA. 
---
Glen MacDonald in TIME Magazine, CA Wildfires
Glen MacDonald is Director of UCLA's White Mountain Research Center. His research focuses on climate change, its causes and its impact on the environment and society. MacDonald commented on President Trump's statements about federal funding to fight wildfires in TIME Magazine.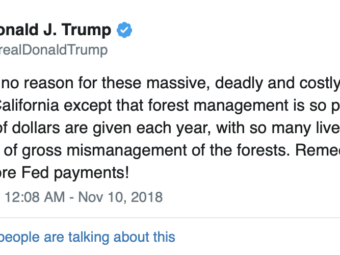 ---
Climate Change Is Fueling California's Wildfires | Glen MacDonald
Here & Now's Robin Young talks with Glen MacDonald, a professor and climate scientist at UCLA who's studied climate change and the causes and impacts of wildfires. MacDonald and his family also evacuated their Southern California home on Friday to escape the Woolsey Fire.
---
Global Warming Creates "the Worst of All Possible Worlds" for California Fires
Global warming might have had a hand in California's recent string of deadly wildfires, UCLA researchers said this week. Climate change is producing "the worst of all possible worlds, and that is what keeps me awake at night," study co-author Glen MacDonald, a UCLA distinguished professor of geography and ecology, said in a statement.
---
---