Awards
5.7.2018
---
Awards
1.26.2018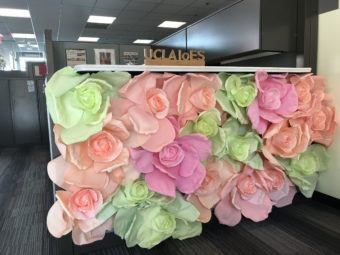 ---
Awards
12.18.2017
---
Awards
12.18.2017
---
---
Awards
11.15.2017
Aradhna Tripati wins 2017 Bromery Award for Minorities
The Geological Society of America awarded UCLA's Aradhna Tripati the 2017 Bromery Award for Minorities, which is given to a minority who has "made significant contributions to research in the geological sciences, or those who have been instrumental in opening the geoscience field to other minorities." Tripati was nominated by UCLA professor emeritus Raymond V. Ingersoll,...
---
Awards
11.6.2017
Professor Daniel Blumstein publishes book on eco-tourism
Globally, a recent study suggested that there are over eight billion visitors per year to terrestrial natural areas. Stated bluntly: more people visit natural areas than there are people on Earth! Alarmingly, this estimate does not include small reserves so the real extent of people interacting with wildlife and recreating in natural areas is even larger. Such...
---
Awards
10.25.2017
Neelin receives 2017 Bert Bolin Global Environmental Change Award
J. David Neelin has been selected as the 2017 Bert Bolin awardee and lecturer of the American Geophysical Union's Global Environmental Change focus group. He will receive the award and present this lecture at the 2017 AGU Fall Meeting, to be held 11–15 December in New Orleans, La. The award recognizes an Earth scientist for "groundbreaking research or/and leadership in global environmental change through cross-disciplinary, interdisciplinary, and transdisciplinary research in the past 10 years." Read the full story from Earth & Space Science News.
---
Awards
5.2.2017
Pritzker Fellow Kevin Njabo knows how to make the impossible happen
Kevin Njabo, director of Africa Programs for both the Center for Tropical Research (CTR) and Congo Basin Institute, has been awarded the 2017 IoES Pritzker Environment and Sustainability Education Fellowship. The annual fellowship is made possible through an endowment from the Anthony and Jeanne Pritzker Family Foundation and recognizes instructors for their contributions to academic programs.
---
Awards
4.12.2017
UCLA professor wins British Society for Literature and Science's annual book prize
IoES and Department of English Professor Ursula Heise has been awarded this year's British Society for Literature and Science (BSLS) prize for best book in the field of literature and science published in 2016. Her book, "Imagining Extinction: The Cultural Meanings of Endangered Species," explores extinction, endangered species and wildlife conservation through the lens of culture and...
---
Awards
4.6.2017
UCLA announces new Ph.D. program in environment and sustainability
Starting this fall, the IoES will offer a new graduate program to help students study and address important environmental challenges that require skills in multiple disciplines. Environment and sustainability problems addressed by the degree program include those related to: climate science, environmental science, mitigation and adaptation, ecosystem services and biodiversity, energy, food, water, air quality, public...
---
Awards
1.31.2017
Rising climate scientist honored by President Obama
UCLA geochemist Aradhna Tripati received the highest honor the United States bestows on science and engineering professionals in the early stages of their careers—the Presidential Early Career Awards for Scientists and Engineers. Presented earlier this month by former President Barack Obama, the award acknowledges individuals who lead in understanding and confronting a range of challenges,...