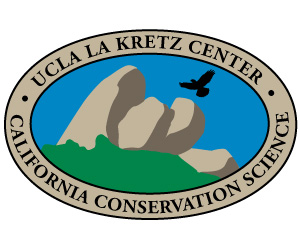 La Kretz Center for California Conservation Science
NEWSROOM
Headline
1.16.2018
---
Headline
11.21.2017
Clothing Color May Affect Local Animal Behavior
It has long been established that even the most innocuous of human activities can impact animal behavior. From birds mimicking phone ringtones to grins triggering aggressive responses from primates, people often have a greater impact on animal behavior than they realize. Now, a recently published UCLA study on local western fence lizards (Sceloporus occidentalis) has...
---
Headline
10.19.2017
The search for the Southern rubber boa
High in the San Jacinto Mountains about 100 miles east of Los Angeles, a secret slithers. Uncovering it takes watchful eyes, long nights and perseverance. But for UCLA's Jesse Grismer, the opportunity to track down a rare Southern rubber boa has been worth the wait. His search for the elusive creature wasn't just a scavenger hunt...
---
Headline
9.29.2017
La Kretz Center breaks ground for new building at Field Station
Say goodbye to our old (and definitely on its last legs) garage. On September 29, the La Kretz Center broke ground for a new accessory structure at its Field Station in the Santa Monica Mountains. The new building will provide us with 1300 square feet of dedicated research space, overnight accommodations for field researchers, and...
---
Headline
5.5.2017
---
Headline
4.20.2017
---
Headline
3.20.2017
Nature springs to life after wet winter
After five years of excruciating drought, California's wildlife finally has a reason to celebrate. The surge in moisture has stirred UCLA conservation biologists who monitor wildlife in the mountains around Los Angeles, the White Mountains and the Sierra Nevada further north.
---
Headline
2.24.2017
---
Awards
1.9.2017
---
Awards
12.22.2016
---
Headline
12.1.2016
Brad Shaffer – "Biodiversity in 2050 L.A."
Los Angeles ranks among the world's top 40 biodiversity hotspots—it has a diverse range of species, many of which are under threat. Making this metropolis a living laboratory of native and non-native species is the bold idea of ecologist Brad Shaffer, head of La Kretz Center for California Conservation Science. If we can protect California...
---
9.26.2016