By Cory Chen
The next group of candidates includes Latino environmental leaders, the CEO of a solar capsule company, an Antarctic oceanographer and an energy director advocating for the protection of Indigenous lands.
---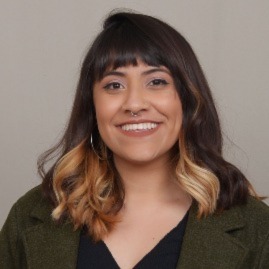 Vianey Moreno, youth organizer, Pacoima Beautiful
nominated by Yvette Lopez-Ledesma
Approximately 83% of the U.S. population lives in cities — a number projected to grow to 89% by 2050. Researchers found that urbanization may lead to a lack of respect for certain aspects of nature. One study that surveyed 13,000 people found that urbanization reduces insect knowledge, causing people to see insects as pests rather than contributors to ecosystems.
Vianey Moreno leads a growing movement to educate and inspire the next generation of nature lovers. She works for Pacoima Beautiful, the only environmental justice organization in the Northeast San Fernando Valley. Community members join her programs to design urban green spaces and discuss solutions for neighborhood problems. She also advises environmental clubs at local high schools and helps them combat food insecurity by building organic gardens.
Moreno previously worked as a naturalist at Community Nature Connection, another environmental justice-focused organization. There she created bilingual lesson programs about Southern California wildlife, climate change, outdoor camping skills and other topics. She holds a bachelor's degree in political science with a minor in sustainability from California State University, Northridge.
---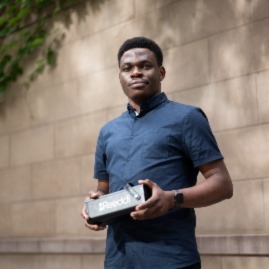 Olugbenga Olubanjo, co-founder and CEO, Reeddi
nominated by Amy Hunter
Nigeria is home to the world's largest energy deficit. Eighty-five million people — 43% of the population — lack access to grid electricity. To manage their households and businesses, many Nigerians rely on fossil fuel appliances like kerosene lamps and diesel generators, which contribute to air pollution and global warming.
Olugbenga Olubanjo invented the Reeddi capsule to address Nigeria's energy crisis. The capsule works like a battery: each unit powers multiple appliances and can be recharged using solar panels. Because purchasing them is expensive, locals can rent one for 50 cents a day. A single capsule prevents 30 pounds of carbon dioxide and 13 pounds of toxic pollutants a year, on average. Reeddi provides electricity to 1,500 households and businesses in Nigeria and seeks to expand across West Africa.
Since starting in 2019, the Reeddi capsule has been recognized by 15 national and international awards, including the Earthshot Prize and recognition among Time magazine's Best Inventions 2021.
---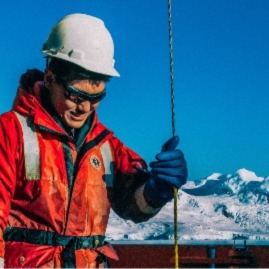 Jack Pan, Antarctic oceanographer, CEO of Ocean Motion Technologies
nominated by Carlos Gutierrez
Global warming puts Antarctic ecosystems at risk of irreparable damage. Many scientists believe melting glaciers could trigger an ecological tipping point that would destabilize populations of phytoplankton, krill and other organisms throughout the Antarctic region.
Jack Pan spent his early career researching Antarctic fjords and glaciers. He was the first researcher who used artificial intelligence to understand how global warming affects Antarctic phytoplankton. Frequent oceanic expeditions motivated him to found the company, Ocean Motion Technologies. Under Pan's leadership, the company creates sustainable energy appliances for boats, aquaculture and coastal defense.
Pan is a postdoctoral research fellow at NASA Jet Propulsion Laboratory. He develops hyperspectral algorithms — data tools that process a wide spectrum of light to provide additional information from satellite images. He holds a Ph.D. from Scripps Institute of Oceanography at University of California, San Diego, and was awarded the Antarctic Service Medal for his innovative research.
---
Amber Reimondo, energy director, Grand Canyon Trust
nominated by Suzan Alzner
From the 1940s to the 1990s, the United States government established thousands of uranium mines on tribal lands, according to the Environmental Protection Agency. With the government under industry pressure to expand use of nuclear energy, advocates say the region surrounding the Grand Canyon is now threatened by nuclear colonialism.
Amber Reimondo advocates on behalf of tribal leaders in the Grand Canyon and Colorado Plateau to protect Indigenous groups from hazardous effects of uranium mining. These hazards include lung cancer from radioactive particles and bone cancer from radionuclides in drinking water. She testified twice before a congressional subcommittee to support the Grand Canyon Protection Act, which would "prohibit new uranium mines around Grand Canyon National Park."
Reimondo holds a bachelor's degree from the University of Wyoming and a master's degree in environmental science and policy from Northern Arizona University. She was named a "Wyoming 40 under 40 Professional" by the Wyoming Business Report in 2015.
---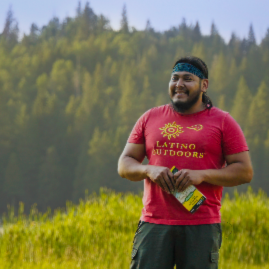 Andre Sanchez, advisory board member and Fresno regional program coordinator, Latino Outdoors
nominated by Debbie Franco
According to Yale and Pew Research Center polls, Latinos and Hispanics are among the ethnic groups most concerned about climate change and global warming. For example, 81% of Hispanics say global climate change is a top priority, compared to 67% of non-Hispanics. In other polls, Latinos rank higher in willingness to join environmental campaigns.
Andre Sanchez leverages the Latino community to advance environmental justice. He established a new center for Latino Outdoors in Fresno, California. He organizes events such as photo contests, flyfishing trips and river clean-ups. His work in Fresno contributes to Latino Outdoors' grander vision: "A world where all Latino communities enjoy nature as a safe, inclusive, and welcoming place." In 2021, Latino Outdoors had 27 locations throughout the U.S. and attracted 1,600 people to its birding, camping, fishing and hiking programs. Over 121,000 also participated in "Mapping Migraciones," an educational project that celebrated the history of Latino migrations.
Sanchez is CalWild's organizer in the San Joaquin Valley, where he makes public presentations on conservation issues in federal lands. He serves as a general board member for Indigenous Oaxaca Cooperativa, organizing events and creating educational materials to amplify Oaxacan voices. Sanchez holds a bachelor's degree in wildlife, fish and conservation biology from University of California, Davis, and a master's degree in natural resources from Humboldt State University.
---
Meet the candidates
Meet the 2022 Pritzker Environmental Genius Award Candidates #1-5
Meet the 2022 Pritzker Environmental Genius Award Candidates #6-10
Meet the 2022 Pritzker Environmental Genius Award Candidates #11-15
Meet the 2022 Pritzker Environmental Genius Award Candidates #16-19