Meet the 2020 Pritzker Award Candidates #1-5
by Ashley Kruythoff
The first five candidates for the 2020 Pritzker Emerging Environmental Genius Award address issues including river pollution, inequity and coexistence with wildlife. From ensuring ecosystem restoration to enhancing emergency response technologies, this year's candidates are solving difficult problems.
---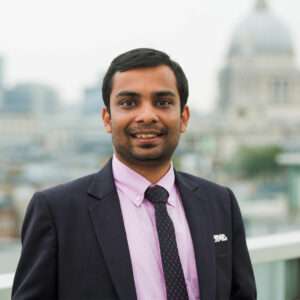 Ankit Agarwal 
Founder & CEO of Phool
During Diwali, the Hindu festival of lights, millions of sacred flowers are placed in bodies of water. Unfortunately, this practice and other daily flower rituals have harmful effects on the environment. Eight million metric tons of pesticide-laden temple flowers choke the Ganges River causing diseases such as hepatitis and cholera among 400 million who depend on the river for water supply.
Ankit Agrawal developed a multi-pronged solution to this problem that provides social and environmental benefits. As founder and CEO of Phool, Agarwal oversees efforts to convert flower waste into luxury biodegradable consumer products including charcoal-free incense and an animal-free leather alternative. The women Phool employ to "flowercycle" the temple waste are former sewage scavengers. He provides them with consistent, healthy jobs and funds for their children to attend school.
In 2018, Agarwal was awarded the Young Leader for Sustainable Development Goals Award by the United Nations. He is a fellow for Echoing Green and Acumen, and received the Takeda Young Global Entrepreneur Award, the Unilever Young Entrepreneur Award and the Global Steering Group for Impact Investment Millennial Honor.
(Nominated by Steve McCormick, Managing Director of the Draper Richards Kaplan Foundation and Co-Founder and CEO of The Earth Genome)
Read more about Ankit Agarwal
---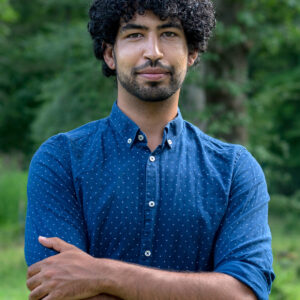 Nikola Alexandre 
Restoration Lead, Conservation International
Over three billion people are negatively impacted by land degradation worldwide, according to the Intergovernmental Science-Policy Platform on Biodiversity and Ecosystem. When forest ecosystems such as the Amazon and Congo Basin are destroyed or degraded, the decaying trees release massive amounts of carbon dioxide.
One 28-year-old leader restores these degraded ecosystems and transforms the communities that steward them. Ecological forester Nikola Alexandre believes that climate change, ecological collapse and the continued devaluation of Black and Indigenous communities are interconnected to the environmental movement. Alexandre leads Conservation International's Ecosystem Restoration Program where he facilitates efforts to scale up restoration of the world's degraded landscapes across 20 countries. As a young person of color in a white-dominated field, he prioritizes underrepresented perspectives, addresses historical inequities, and facilitates restoration practices that are informed by local contexts.
Nikola holds a BA in environmental studies from Vassar College, an MBA from the Yale School of Management and a masters of forestry from the Yale School of Forestry and Environmental Studies. His background in business strategy and conservation finance combined with his training in ecosystem management prepared him to restore ecosystems and create sustainable livelihoods for people and communities around the world.
(Nominated by Dr. M. Sanjayan, Conservation International CEO and Visiting Researcher at the UCLA Institute of the Environment and Sustainability)
Read more about Nikola Alexandre
---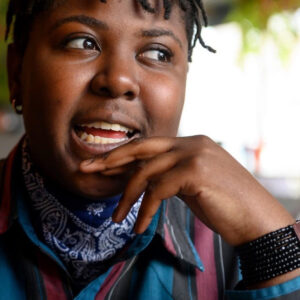 Vic Barrett
Climate Justice Activist
The climate crisis is an increasing focus of high-profile legal battles. One ambitious case, Juliana v. United States, saw 21 youth plaintiffs sue the federal government for violating their rights to a safe climate by permitting environmental harms. Earlier this year, the case was narrowly dismissed by the U.S. Ninth Circuit Court. Despite the defeat, human rights laws may still be the next frontier for climate court action.
Vic Barrett was one of the Juliana litigants who sought fossil fuel drawdown. He experienced the impacts of climate change first-hand when Hurricane Sandy hit his low-lying hometown of White Plains, New York. By age 16, Barrett's determination to improve society brought about his attendance and speech at the 2015 COP21 UN Conference on Climate Change in Paris, drove him to interrupt a US fossil fuel panel at COP24 and inspired him to speak before a crowd of 400,000 people at the People's Climate March in New York. Now 21 years old, Barrett is a fellow with the Alliance for Climate Education.
A first-generation American who is trans, indigenous, Latinx and Black, Barrett does not view police brutality, economic inequality, LGBT rights and a slew of other challenges as separate issues. Instead, he recognizes that unjust systems disproportionally affect the poor, people of color, and that climate change further exacerbates pain, loss and suffering.
Barrett is pursuing a degree from the University of Wisconsin and works with multiple social justice organizations, seeking coordinated solutions for broad societal issues.
(Nominated by Ted Richane, Senior Director, Strategy, Engagement and Impact at Vulcan Productions)
Read more about Vic Barrett
---
Dominique d'Emille Correia Gonçlaves
Manager of Elephant Ecology Project at Gorongosa National Park & National Geographic Research Fellow
After a brutal 16-year civil war destroyed huge amounts of wildlife, including 95% of large mammals, one of Africa's most biologically diverse national parks is now breathing a sigh of relief. From sea level to 6,000 feet, the Gorongosa National Park in Mozambique is a coveted landscape of nearly every conceivable habitat — savanna, grassland, forest, meadow and a touch of rain forest. Researchers and students from around the world study wildlife found in the reserve.
Large-scale conservation efforts helped wildlife rebound and provide educational opportunities for local people. Gorongosa is a bastion for elephants, which have nearly rebounded to prewar numbers. This is due in part to the efforts of Dominique d'Emille Correia Gonçlaves, ecologist and manager of the Elephant Ecology Project at Gorongosa. In addition to protecting elephants, Gonçlaves is also a passionate advocate for girls' education as a means of preventing early marriage. Mozambique has one of the highest rates of child marriage in the world where 30 to 40% of girls marry before the age of 18. Through the park's Girls Clubs, she uses the emblematic species to inspire and improve the school experience for vulnerable girls in education programs while working towards sustainable development goals.
Mozambique is ranked 139 out of 159 countries on the United Nations Development Program's Gender Inequality Index. Only 28% of females know how to read and write compared to 60% of males. Gonçlaves overcame many obstacles to pursue her education. She would walk for hours, sometimes without food and in torrential rains just to attend school. Her energy and perseverance earned her a master's degree in Conservation Biology at the University of Kent. Gonçalves is the narrator of the film "Our Gorongosa: A Park for the People" which reflects a new model for conservation and community development in one of Africa's iconic national parks. Gonçalves is a National Geographic Society Fellow and in 2019 was featured in the National Geographic Women of Impact film.
(Nominated by Ami Vitale, Writer, Photographer and Filmmaker for National Geographic)
Read more about Dominique d'Emille Correia Gonçlaves
---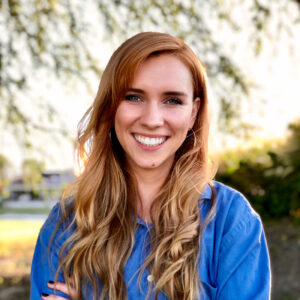 Bailey Farren
Founder and CEO, Perimeter
The past five years have been the hottest on record, according to a 2020 National Oceanic and Atmospheric Administration report.  Predictions forecast future years to be just as warm or warmer. Since 1980, the US has spent $1.5 trillion on natural disasters, with $300 billion spent in 2017 alone. California has been hit especially hard — 10 of the 20 most destructive wildfires in the state's history have occurred in the last five years. Though the risk posed by wildfires has grown substantially, the technology used to respond to disasters is often outdated. Firefighters in major incidents like the 2018 Camp Fire relied primarily upon World War II-era equipment including paper maps and radios. This creates major impediments for disaster management efforts.
Bailey Farren is the daughter of two first responders. She was acutely aware that emergency technologies were sorely lacking. Farren co-founded Perimeter, a platform which brings interactive intelligence technologies to governmental agencies, to enable faster and more efficient emergency response. Perimeter combines geospatial data and mobile technologies that first responders can use to communicate with each other and the public in real-time. Map-based, interactive data visualizations show incident locations and other hazards. Perimeter's centralized platform allows populations to take evacuation measures into their own hands, aiding prevention measures during emergencies.  Farren and her team can transform the way we practice public safety and prevent environmental destruction.
Farren founded Perimeter after graduating from the University of California, Berkeley in 2019. She was a 2016 parliamentary debate finalist for the Northern California Forensics Association and received highest honors for the Phi Ro Pi National Forensics Organization.
(Nominated by Steve Westly, Founder and Managing Partner of The Westly Group)
Read more about Bailey Farren
---
On Social Media
---
Meet the 2020PritzkerAward Candidates #1-5! From ensuring ecosystem restoration to enhancing emergency response technologies, this year's candidates are solving difficult problems @bailey_farren @perimeterHQ @ReachoutToPhool @NikolaAlexandre @vict_barrett https://t.co/4NWFd49jSB pic.twitter.com/BcbRkvJPGK

— UCLA Inst. of the Environment and Sustainability (@UCLAIoES) August 3, 2020